C-Green, Finland (pulp and paper)
BIOFIT Case Study: Hydrothermal carbonization of pulp mill wastewater sludge with the C-Green's innovative OxyPower HTC technology at a Nordic pulp mill for sludge disposal and production of biocoal.
New BIOFIT Results: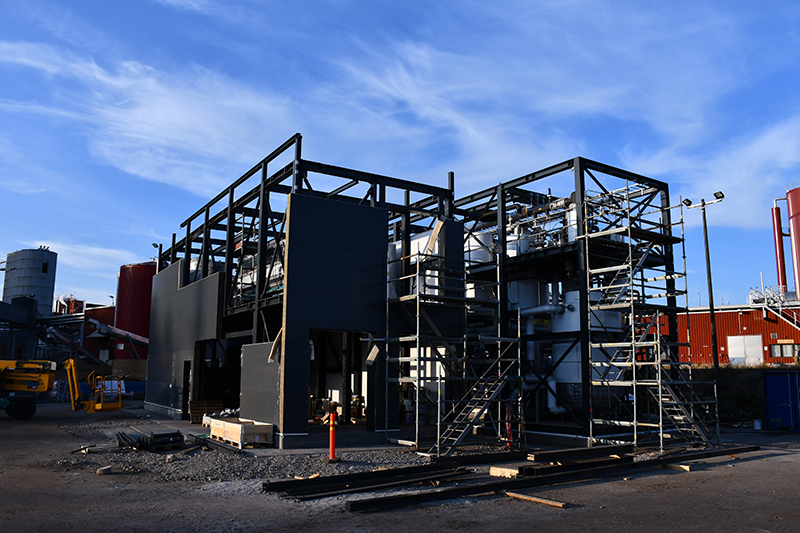 Under the lead of project partner VTT, production of biocoal with hydrothermal carbonization of pulp mill sludge will be investigated. The retrofit can offer a novel cost-effective solution for sludge disposal while also producing an asset called biocoal for energy production.
Currently, the sludge from pulp and paper mill's wastewater treatment plant is disposed by incinerating it in the recovery boiler, which produces heat and electricity. The annual amount of treated sludge is 4,800 tons of dry matter. In the suggested retrofit, C-Green's OxyPower Hydrothermal Carbonization (HTC) Technology is used to treat the wastewater sludge. As a retrofit product, 2,700 tons of dry HTC biocoal/yr will be produced with heat value of 10,900 MWh. As an alternative scenario to the retrofit, BIOFIT project studies the production of the same amount of HTC biocoal with a greenfield HTC-plant connected to a small-scale wastewater treatment plant.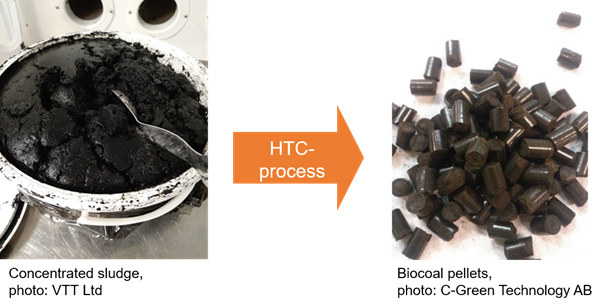 The figure below shows the pulping process both before and after implementation of the retrofit. In the current process, dewatered sludge from the wastewater treatment plant is mixed with black liquor in the evaporation plant and combusted in the recovery boiler. In the retrofit scenario, the sludge is fed to the HTC-plant to produce HTC biocoal. This means that there is less matter to be combusted in the recovery boiler.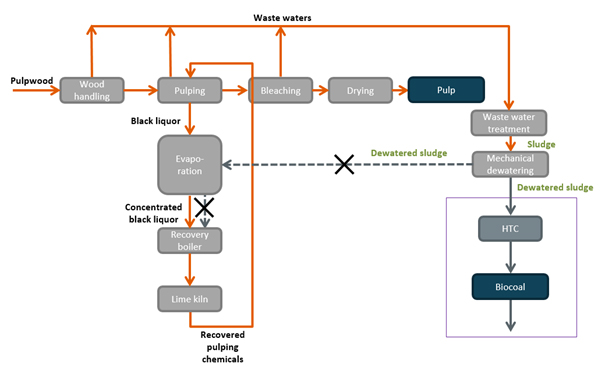 Several possible market benefits from HTC-retrofit are foreseen and further studied in BIOFIT. Retrofit exploits wet low-value feedstock that has been traditionally considered as waste to be disposed. The volume and water content of sludge are significantly reduced because of the retrofit process, and its product is stable for transport and storage. The HTC biocoal product can be used in several industries to substitute fossil counterparts in energy production and thus, promote coal phase-out goals.
Disposing sludge in the recovery boiler adds some non-process elements (such as divalent metals, phosphorous and nitrogen) in the pulp mill's recovery cycle. In the retrofit, the main part of the non-process elements end up to HTC biocoal. In addition to main product, small amount of biogas can be produced from the liquid effluent from C-Green's process. The effluent can be used also as nitrogen source for the wastewater treatment plant.