Sölvesborgs Energi, Sweden (CHP)
BIOFIT Case Study: Conversion of the fossil oil boiler of Sölvesborgs Energi och Vatten in Sweden to the utilization of bio-oil
Together with project partner ESS, the utilization of bio-oil in the existing central heating boilers of Sölvesborgs Energi och Vatten in Sölvesborg, Sweden, will be investigated. The heating boilers have a capacity of 16 MW in total.
The main objective for this case study is to investigate the possibilities and prerequisites for converting from fossil oil to light or heavy bio-oil in the existing boilers at the case study company.
The investigation will act as a base for the case study company on a decision for investments. A consultant report will contribute to additional input to the base for the decision. The consultant focus on the prerequisites for converting from mineral oil to bio-oil or biodiesel for type of bio-oil and retrofit of auxiliary equipment, e.g. need of new burner, need of new pipes, containers and other equipment and need of heat to keep the fuel warm.
ESS has collaborated in close relation to the case study company. Together they have accomplished four working group meetings, two of them together with the consultant. Three case study team meetings have been organised, the one early in 2020 with oral presentations of supply chain, techno-economic and environment assessments.
The BIOFIT case study will be an important input to the decision of the Sölvesborgs Energi board members on a possible investment into retrofitting their heat plant at Sölvesborg. By the summer 2020 the company will have the final results from the case study and later on the board of the company are foreseen to take a decision whether to invest or not. If they go for an investment, they need to decide the new feed-stock, heavy or light bio-oil. The boiler will be retrofitted in 2021, by earliest.
Current state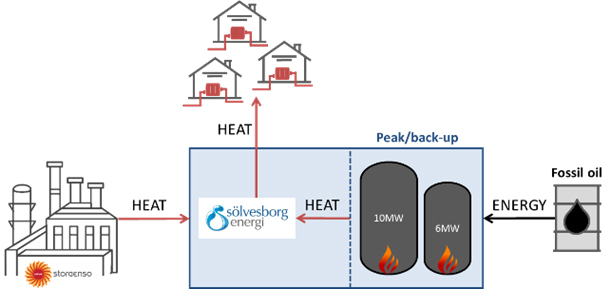 Retrofit
Illustrations by Doris Matschegg, BEST