BIOFIT virtual Business Mission to Ukraine - Webinar 22.09.21 - Presentations available
Webinar "Bioenergy retrofits for Ukrainian fossil heating and power sectors – European technologies and examples"
Date: 22 September 2021
Time: 11.00-14.30
The Bioenergy Association of Ukraine together with the BIOFIT project invite you to participate in the series webinars "Supporting bioenergy retrofitting of the energy sector of Ukraine". This first webinar will be held on 22 of September 2021.
The second webinar will be held on 10 November 2021.
Press release on the first BIOFIT business mission to Ukraine:
https://uabio.org/en/news/uabio-news/11525/
All presentations of the BIOFIT webinar are available at:
https://uabio.org/en/events/10759/

For more information on this webinar, please visit:
https://uabio.org/en/events/10759/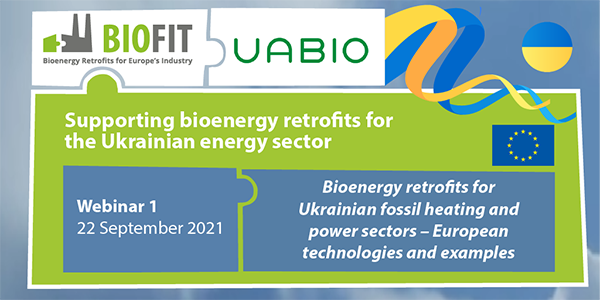 ---